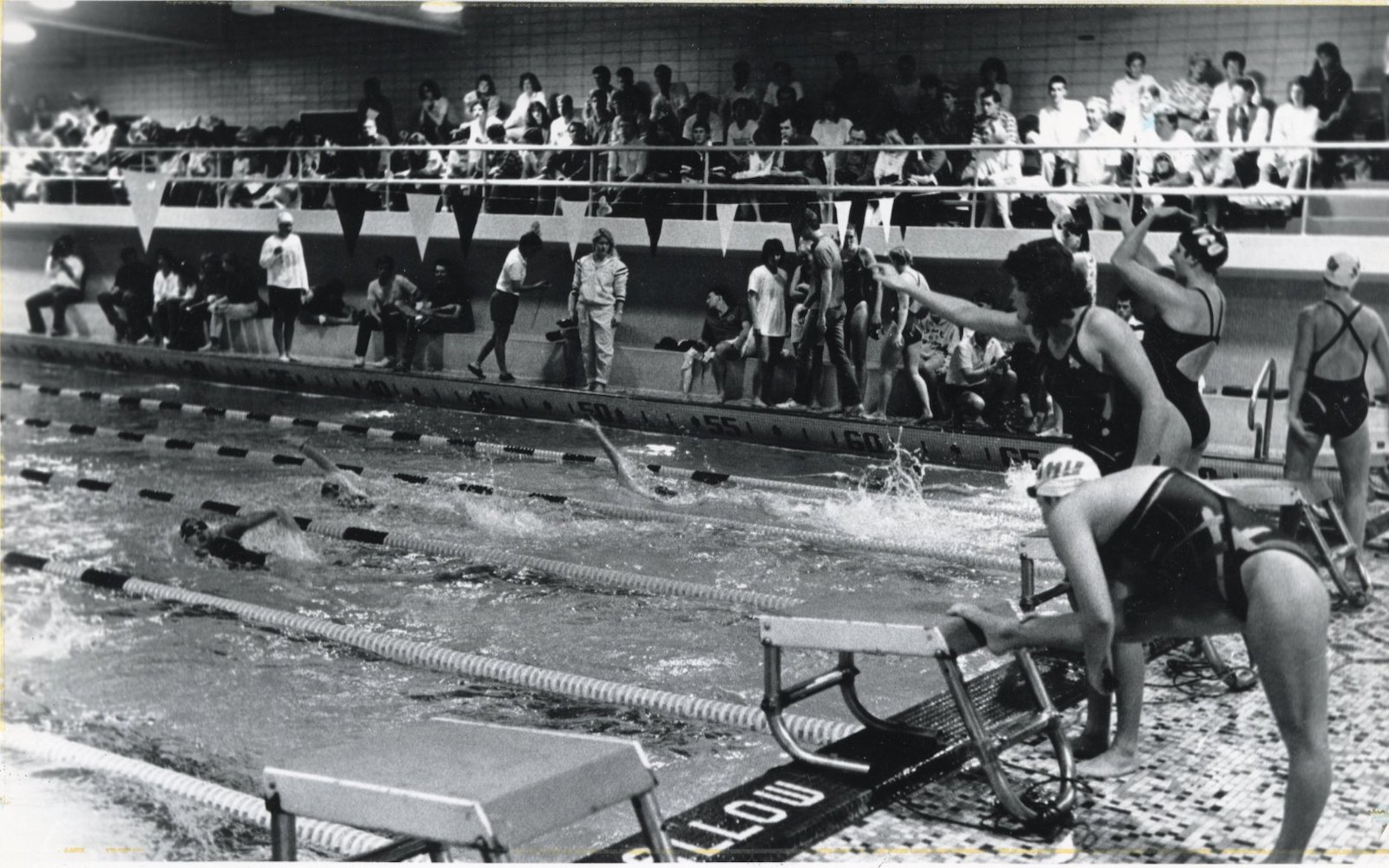 More memories from Franklin Street Gym
Letters and stories from alumni underscore the building's charm. Among them: a chance encounter with a future basketball Hall of Famer and an underwater photo shoot.
Ahead of our inaugural issue of VCU Magazine, we invited readers to share their memories of VCU's now-demolished Franklin Street Gym, which for 68 years was the university's unofficial social hub (and an architectural misfit on Richmond's mansion-lined West Franklin Street). The invitation elicited some charming responses. Those letters, and some additional anecdotes that did not make it into our ode to the building, are below, and have been lightly edited. — Eds.
High dives
I swam and played water polo during my tenure. The pool was affectionately referred to as "the swamp." It being in the basement, [it] had no light and felt like it was in … the basement.
We had a 1-meter diving board but a very low ceiling. After practice it was not uncommon for us to take a couple bounces on the board and grab one of the I-beams supporting the basketball court above. During a swim meet against William & Mary, one of their divers (they were very very good) showed us how it was done. During warmups, he got a big bounce and did a front flip, grabbed the I-beam, hung for a few seconds and did [a] backflip on his way down. Most amazing thing I'd seen. — John Leino (B.S.'86; Cert.'01)
Dr. J takes flight
The Virginia Squires [American Basketball Association] had training camp at Franklin Street Gym. And they had a rookie named Julius Erving. They also had a center from Utah, [Willie] Sojourner. He was the one who came in with the accolades.
During the workout, [VCU coach] Chuck Noe was telling [Squires coach] Al Bianchi, "Ya'll making all of this hullabaloo about Sojourner, but that little skinny guy over there?" — Erving — "While Sojourner is getting ready to jump, that little skinny guy over there sprung up and got the ball and is gone." You talk about legends getting started, that's one there. Julius Erving. Franklin Street Gym. — Reggie Cain (B.S.'78)
'I want my photograph taken underwater'
In 1971-72 I was editor of The Commonwealth Times. That was an extremely strenuous situation — the Vietnam War, President [Richard] Nixon versus George McGovern. Between trying to cover this expansive new university and the political year and almost weekly protests or speakers in Monroe Park during that [presidential] campaign of 1972, it was a very busy time to be in college and run a large paper.
So, what does all this have to do with Franklin Street Gym? The only way I kept my sanity during that year is I would go to the gym to swim between attending my classes and then going to The Commonwealth Times' offices. I would plunge into the pool and swim laps. It was a great diversion from everything else going on. It was such a lifesaver for me. I would go there basically every day.
The student yearbook at the time was quite an artistic statement. In the 1974 yearbook, the seniors instead of having senior portraits, were asked where they would like their picture taken because the photography majors who took pictures would meet you wherever you wanted to be. And I remembered there was a window in the pool where I assumed swim instructors would observe the strokes of the swim team. And so I said, "I want my photograph taken underwater in Franklin Street Gym."
They looked at me sideways, and I said, "Well, there are underwater cameras." And they had said anywhere. And then I said, "But you can take it if you like through that window," which nobody really knew about. I think they did a nice job catching me underwater, looking like some sort of astronaut or something. — Edwin Slipek (B.F.A.'74)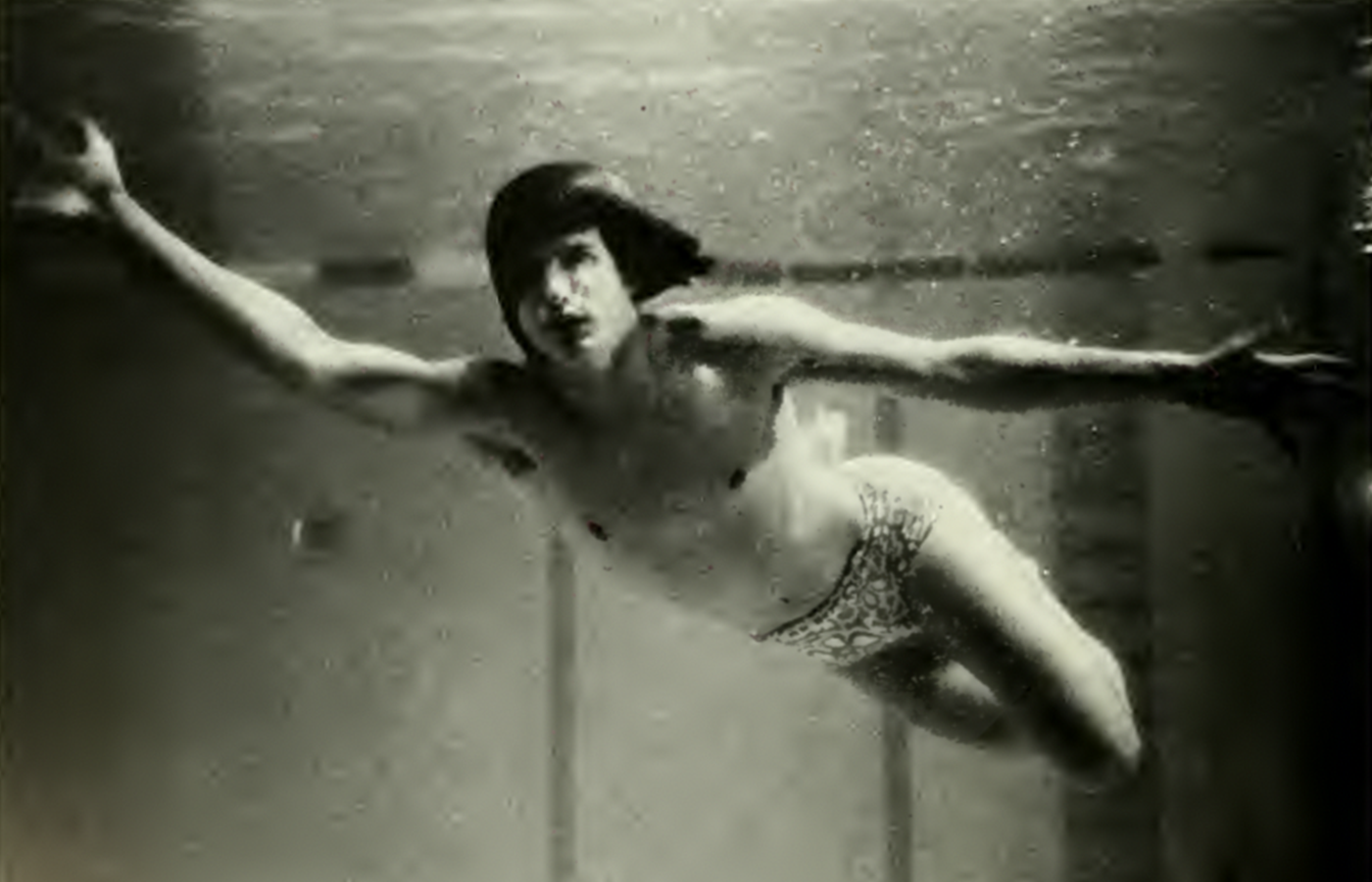 Last (and first)
I played basketball for RPI/VCU from 1966-68. I played in the last game of RPI and the first game of VCU. The gym was packed when we played our rival Randolph Macon College! My wife, Virginia (B.F.A.'70), was a cheerleader and on the concert/dance committee. We had some great programs in that old gym. — Stephen Harvey (B.S.'70; M.E.'75)
Song and dance
I remember taking gym classes and attending festivities in the Franklin Street Gym. My sister and I attended a concert by Kenny Rogers and the First Edition in the mid 1970s. — Norma Jean Scott (B.G.S.'80)
From 2009-11, Muevelo@VCU (a Latino-infused dance organization) built many memories in FSG during our many practice nights! We used the exercise room which was perfect given all the mirrors to sharpen our moves, and a few bigger classrooms on the top floor. — Nikkia Johnson (B.S.'12)
The deep end
Back in 1994, I had two classes there as a part-time student, and later played in, watched and coached in local volleyball tournaments there. You could definitely tell when you got near the pool though, by the ever-present odor of chlorine. — Daryl King
Before attending VCU, I spent many mornings and evenings in the early '90s at Franklin Street Gym. I'll always remember the pool with all the green and blue tile and small spectator stands. I remember how nice the security desk folks were and how slippery the tiles always seemed to be. The pool was extremely deep and it was always a fun game to see who could touch the bottom. — Sarah Neely (B.S.'14; Cert.'22; M.Ed.'22)
I attended Open High School in the mid-'70s. We didn't have any gym facilities and were allowed to take PE classes at VCU. I took a lifesaving course at the Franklin Street Gym and thought it was great to be with college students! I used my lifesaving certifications for many summers when I worked as a lifeguard. — Jo Straus Murphy (M.S.W.'86)
Hoop dreams
I was a long, triple and high jumper on the VCU track team from 1993-97. The track offices, weight room and athletic training room were all in Franklin Street Gym and I spent more time at Franklin Street than probably anywhere else on campus. … If it rained hard or was a light day, we would sometimes practice in the gym or do plyometric drills with just the jumpers and sprinters on non-track days.
I also spent a ton of time playing pickup basketball in the main gym, after hours, or would just go there to shoot by myself when I needed some alone time. As a student-athlete we had a code to get into the building 24/7 and I took full advantage of it to the point that I am sure the security that used to work the front desk got real tired of me. For my first few years at VCU, the main gym was actually a pretty good spot to find pickup games late at night with other student-athletes. and sometimes random guys from the surrounding community would get word of the games and show up. I remember games lasting from 8 p.m. to midnight (or later).
I'd often run into both men and women from the VCU basketball teams in the gym working on their game and got to become friends with some of them. Former NBA player Marc Jackson (VCU 1993-94) and I had a few fun late night games of 1-on-1 full court before he transferred to Temple. I won't say who won, but I'm 5'11 and 170 and he was 6'10 and 270 and played in the NBA, so … — Matt Prebble (B.S.'97)
Late nights on the editing desk
It was our home away from home away from home. As a broadcast journalism major. it was the place for bleary-eyed editors. (How did the same people get the non-midnight to 5 a.m. editing times?) Who else forgot to move their car from Franklin Street before the street cleaners arrived to do their jobs? Looking back on those crazy, creative and foundational days that paved the way to our future careers, we were fortunate to have inspirational teachers and such talented people to work alongside. Sorry to see this piece of history go. — Janet Keyser (B.S.'88)