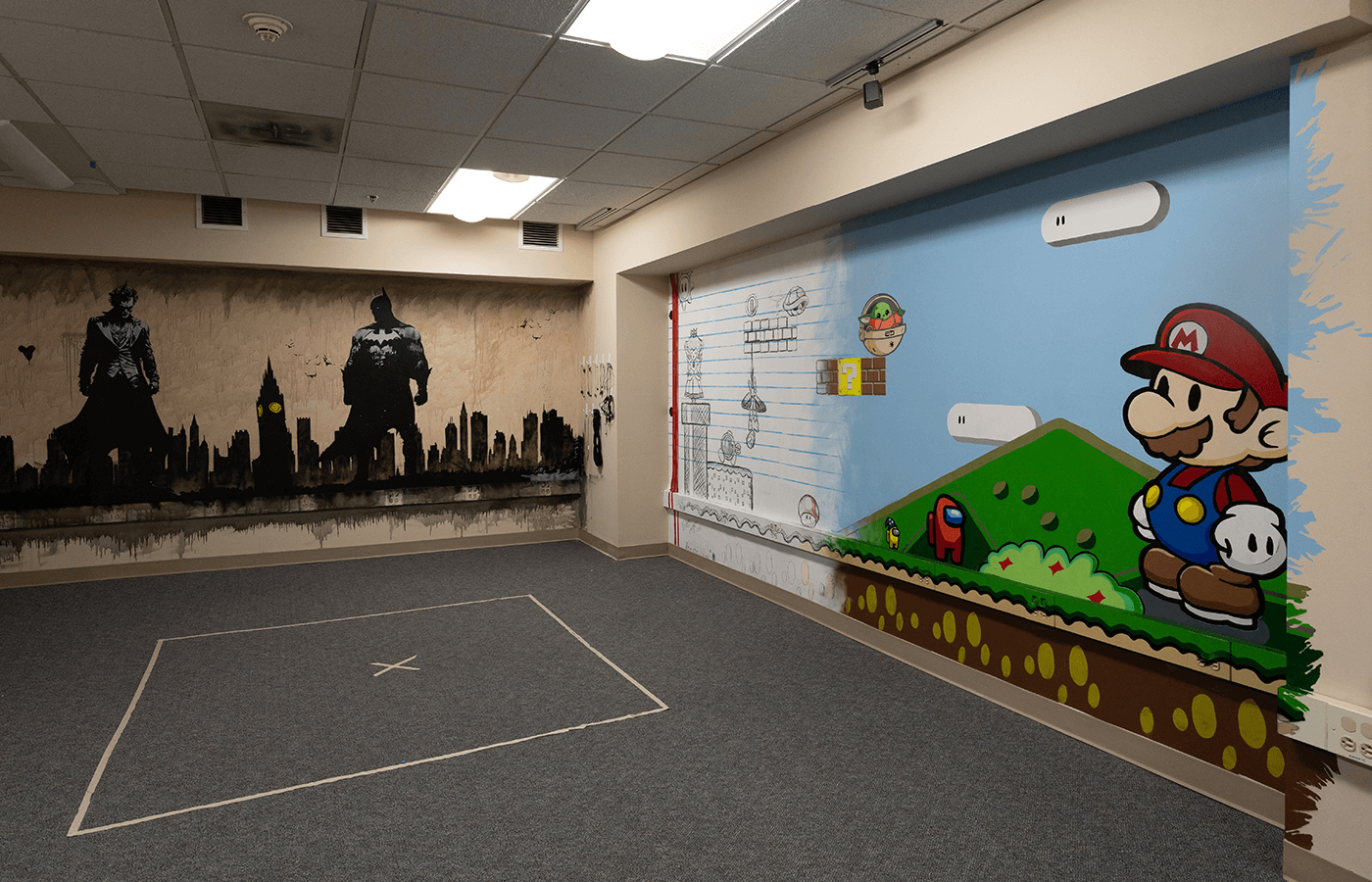 A windowless room with colorful views
Self-taught artist Brent Fagg takes us on a tour of his work in a VCU Medical Center research lab
You might recognize the wall on the right side of that top photo. It was the backdrop of a photo in our fall 2022 issue of Jason Bennett and Nicholas Thomson, Ph.D., in their research lab for at-risk youth.
The artwork is by Brent Fagg, a licensing manager at VCU's TechTransfer and Ventures office. A self-taught artist, he's been, at Thomson's request, painting murals in this basement room in VCU Medical Center West Hospital for the past two years. Adjacent walls feature paint splatter-inspired portraits of his two children and a brooding Batman-and-Joker showdown over Gotham (left wall in the photo above).
Mario and his friends, though, came first. Completed over two weeks in late 2021, the 14-foot panorama of charcoal drawings (sealed with an acrylic clear coat) and spray paint begins as a sheet of paper before morphing into the colorful video game landscape of everyone's favorite Italian plumber (and some non-Nintendo pals).
"It's a space for kids," Fagg says, and that principle guides his decisions. He lays out full-scale drafts in his living room using poster board and tape before painting. About half the walls remain untouched (he's considering WALL-E for the next section). And Fagg isn't the room's only artist: His son, Grayson, 11, added "one of his signature stick-figure battles" to the bottom of the Mario mural and helped sketch Princess Peach. Here, his dad explains some lesser-known details of the room's inaugural scene.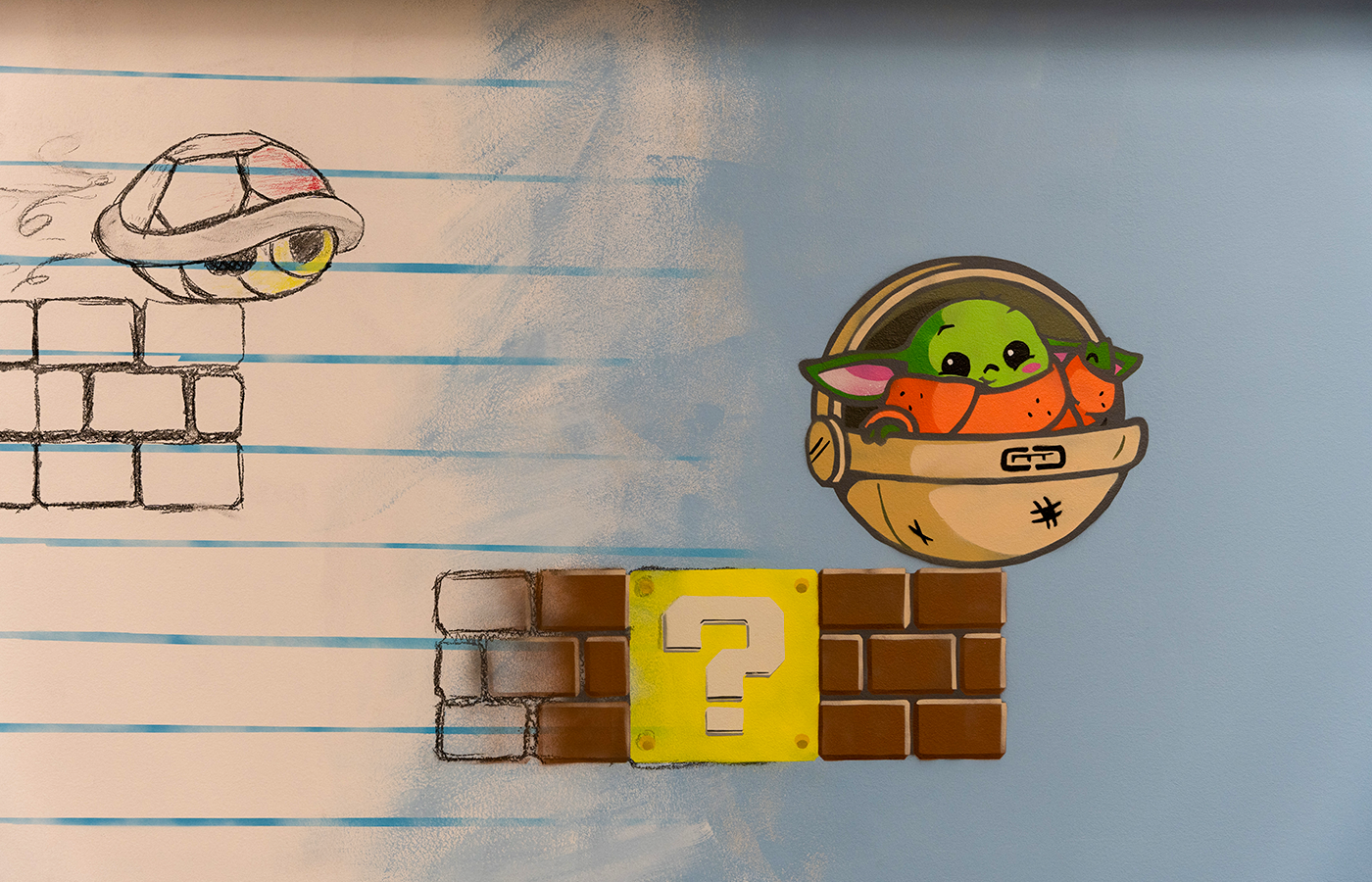 New in town? The character illustrations, with their thick black lines, are inspired by the Paper Mario video game series, Fagg says. "The whole idea is you transition from a kid's sketch pad — sketching or doodling in school — to the video game. But I wanted to add other elements, so [I] dropped in Spider-Man and characters from 'Among Us' that kids enjoy. Baby Yoda has the big, fat outside lines that fit with this style. He was going to be half [sketch style] and half [color] but I liked the way he looked complete, so I scooted him over."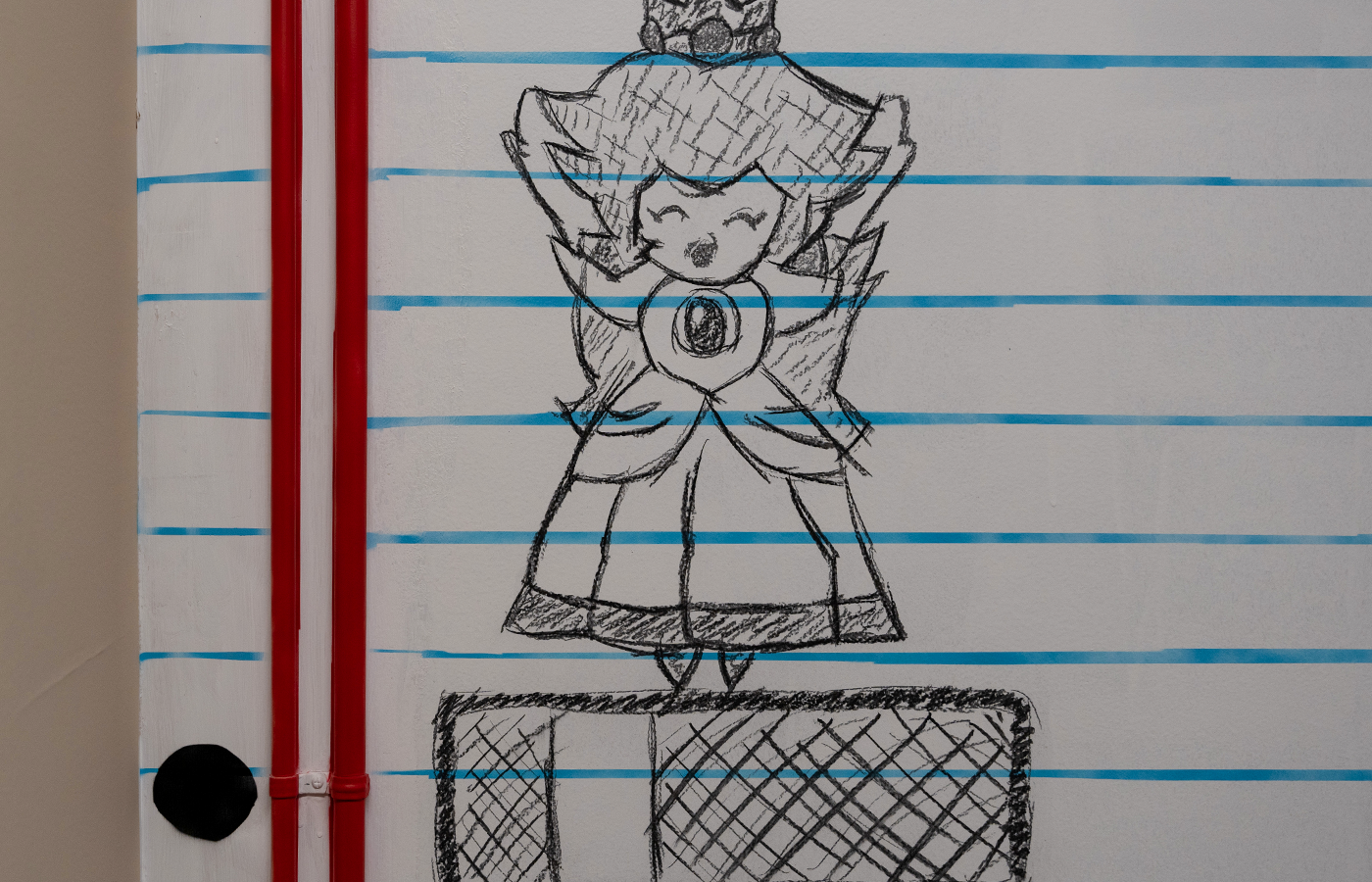 Built-in obstacles: "I probably worked out a few dozen ideas before I settled on one I liked," Fagg says. "You've got these two [electrical] pipes, and some ideas just weren't going to work with those pipes there. I was trying to figure it out and I was like, 'Well, it's about the right distance for paper lining.'"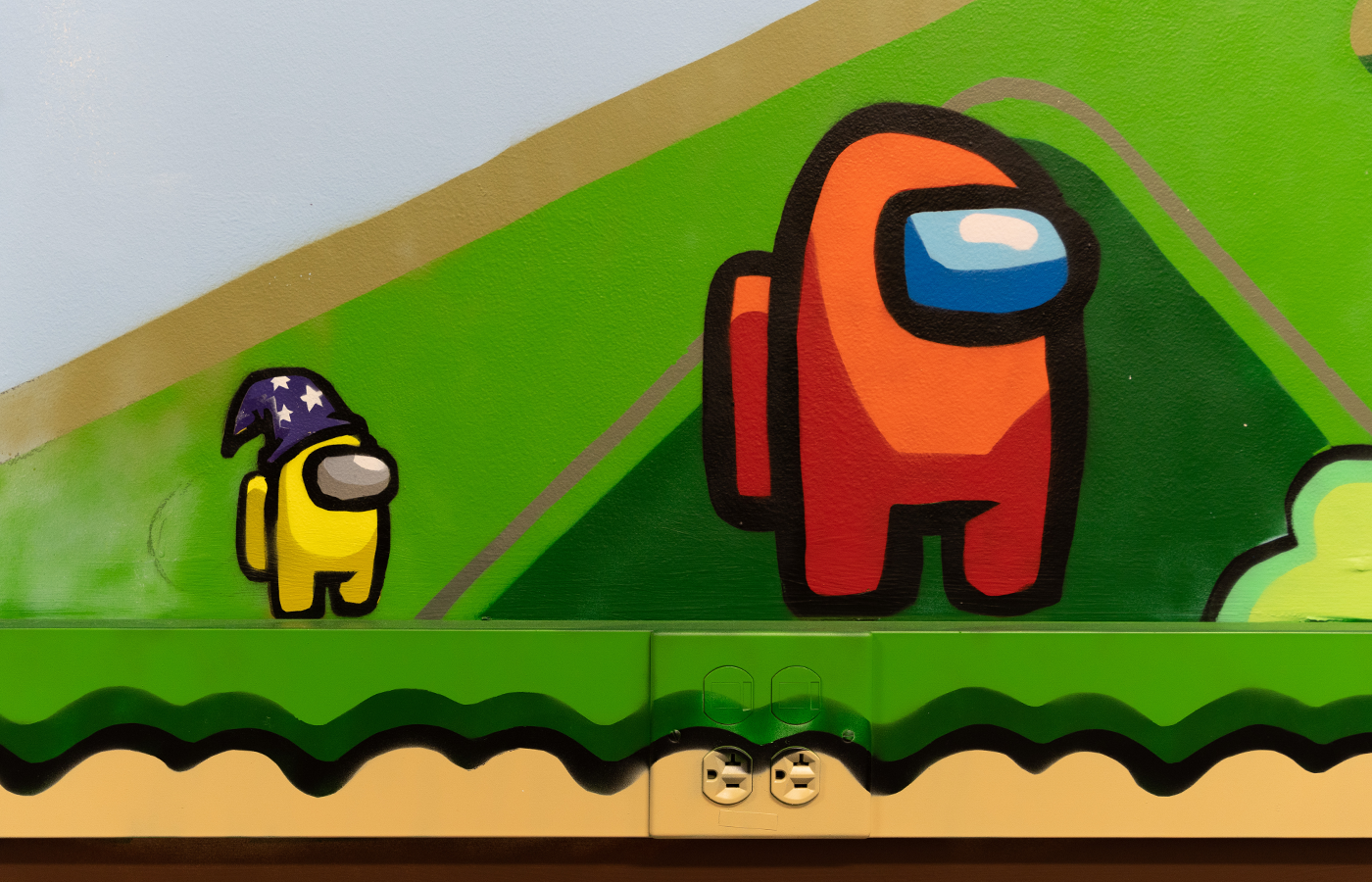 Another hurdle: A long electrical plate runs the perimeter of the room, and it's been "the bane of a lot of my ideas," Fagg says. "It's really hard to paint around, but it's also visually a transition point. There have probably [been] another 40 or 50 ideas where I work stuff out, and then as I mock it up, it's like, 'That's not going to work.' It works really well [here] though, because in Mario, when you're side-scrolling, you always see underground."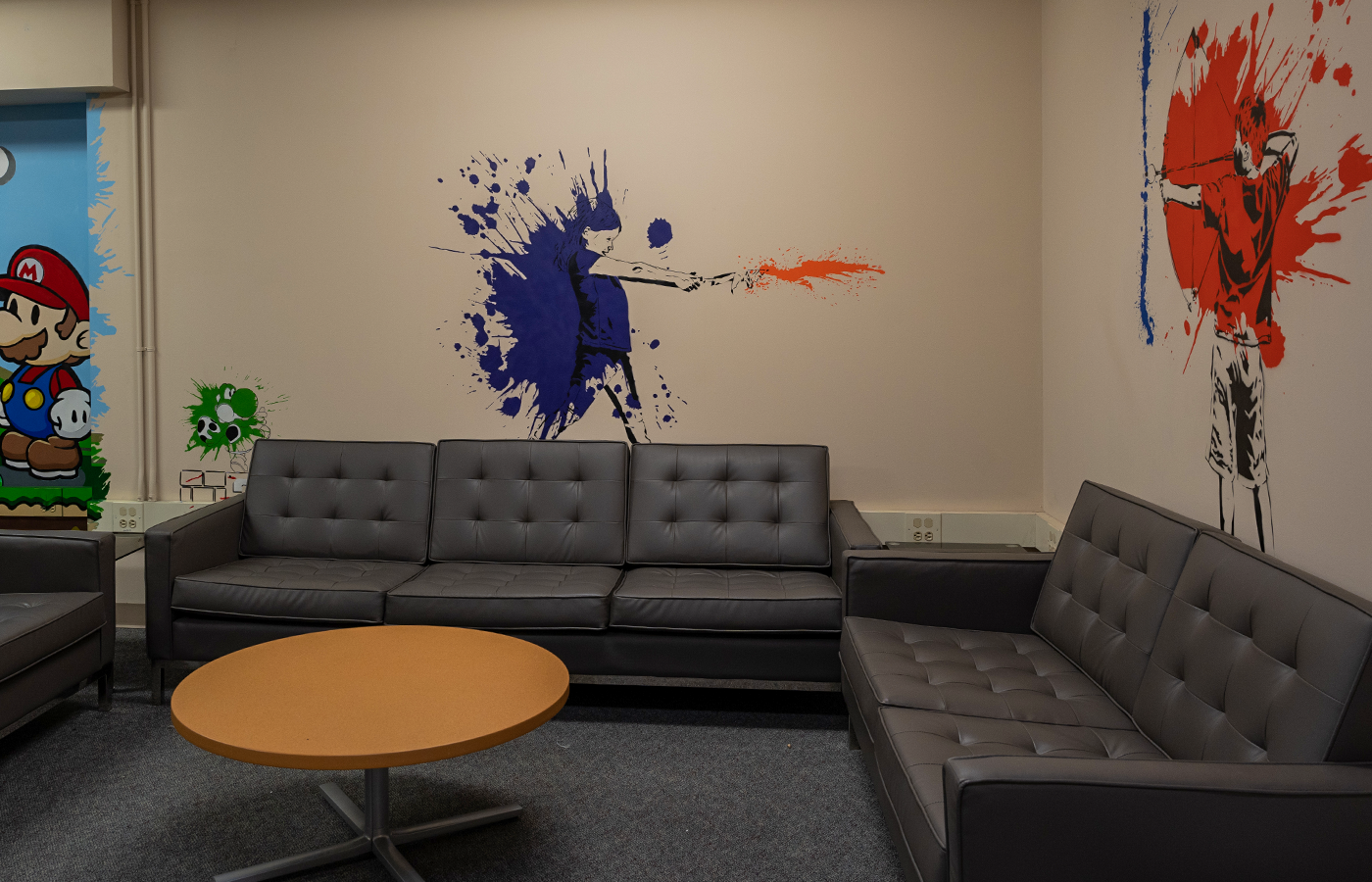 Change it up: Fagg likes variety, and with each section introduces a new style. "This corner — this little 1-by-1-foot — is one of my favorite pieces," he says. "I have this paint-splatter style [on the next wall] of my kids. And so you go from Mario to the paint splatter, and you've got this little Yoshi that looks like he's been paint-splattered as well, so the two [murals] blend together."