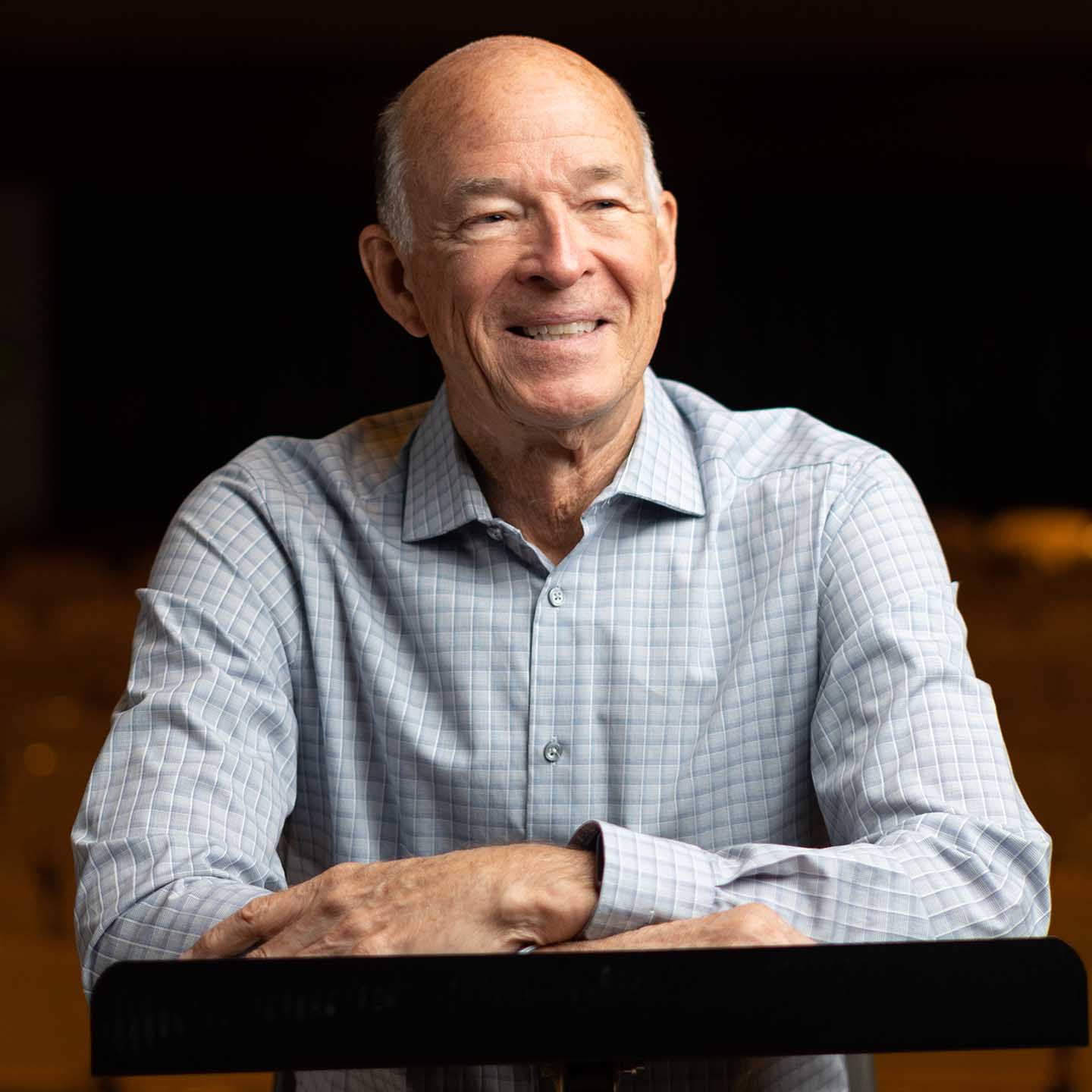 Terry Austin and the 'very important thing'
The just-retired band director reflects on how he's changed and what he's learned over nearly half a century at the podium
More than an hour into a mid-June chat that will last more than two, Terry Austin, Ph.D., unprompted and pensive, returns to an earlier question about how he's changed over 36 years as VCU's director of bands and a four-year run as chair of the music department, which concluded with his retirement — and retirement concert — last week.
Austin answered the question in Hour I, though not as well as he answers it now in Hour II.
Time and some decent conversation in a nave-like lobby, perhaps, have loosened the man — a good Midwestern boy, lapsed trombonist and, somehow, the fourth choice for his job in 1986.
"Over the course of my career, it's become increasingly important to me that I always bear in mind that my students are not there for my benefit. I'm there for their benefit," the 70-year-old says this afternoon in the W.E. Singleton Center for the Performing Arts. "That was not a thing for band directors in the '70s, '80s and '90s and early 2000s. It was more like 'You're going to win a trophy for me.' That sort of thing. And I just don't have that in me at all. To me, if I let myself change that equation, I should not be accepting a paycheck."
Austin's sincerity comes through in the nuance of his commanding voice and how he talks about the primordial entangling of music and emotion. He fancies Queen and Carole King — her biographical musical "Beautiful" got right at his heart — and he still thinks about that time he saw Stevie Wonder live in 1985.
"He had amazing musicians with him on stage — really, really fine musicians — and the first half was so boring," Austin says. "I was almost ready to leave but I found out that he was coming on stage by himself for the second half, and the second half was incredible. It was just him, a piano and a microphone. His music wasn't being expressed through other people. It was only being expressed through him, and it was just a completely different experience."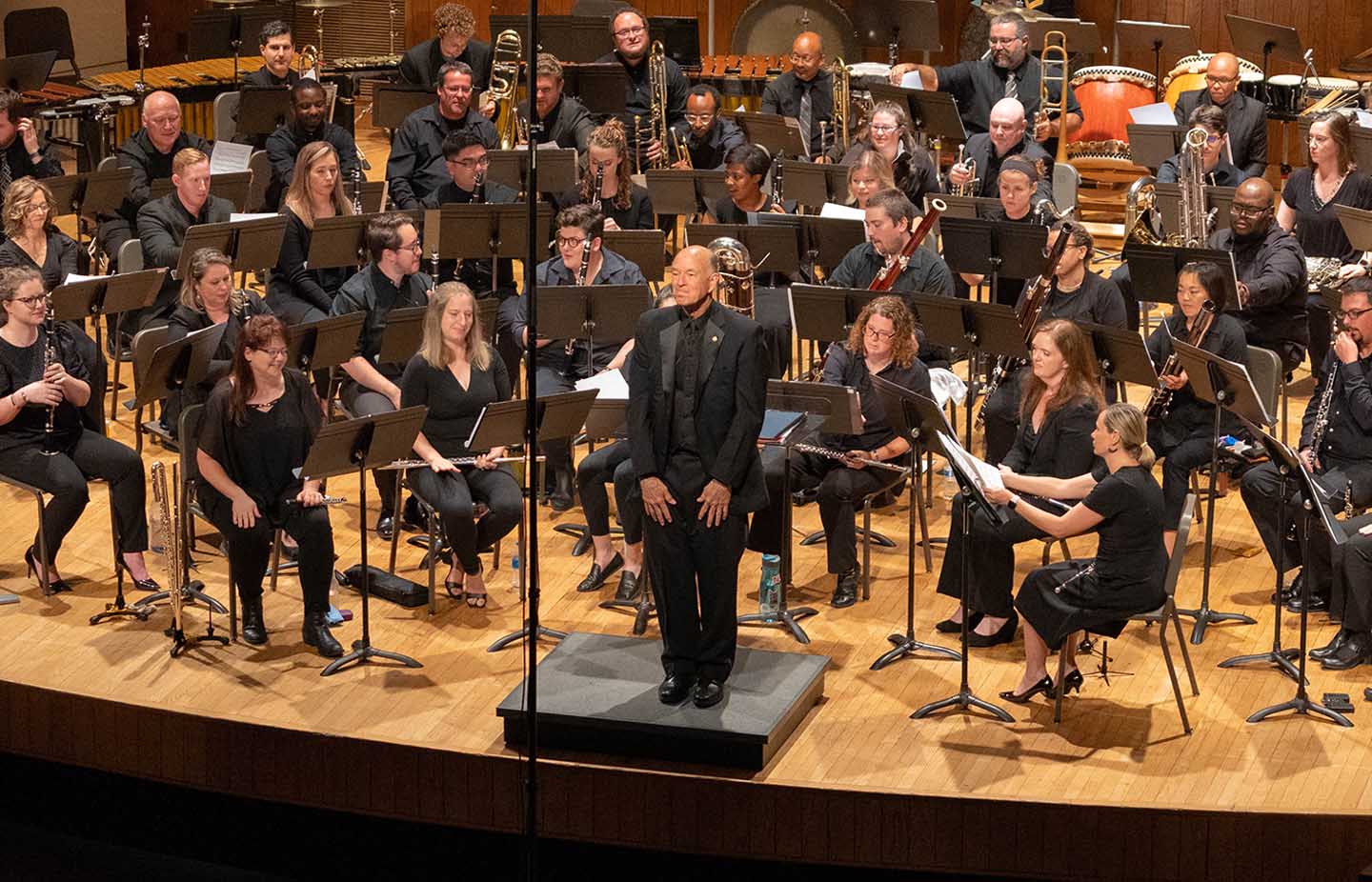 Austin came of age in a dictatorial time, when band directors were overlords, wielding fear like a nun would a yardstick. He remembers those band directors humiliating students until they cried and then tossing them from rehearsal.
"I think the thought was if you have high standards, you scare them into playing it right," Austin says. "I grew up with a certain amount of that. I always respected my teachers and I was never afraid of them, but I certainly didn't want to be embarrassed because I couldn't do something. And I never looked at it as being embarrassed because someone was being mean to them. I looked at it as knowing I wasn't doing what I was supposed to do. But that kind of approach is no longer viable. Even if somebody can make the case that it was effective, it would no longer be viable."
Austin says he started with that mindset, although maybe not completely tyrannical. His first job as a band director was at an Indiana high school in 1974. He was 22. He got his first college band director job 10 years later at the University of Missouri-St. Louis.
"I kind of took a hard-line approach with my first few rehearsals, and I realized I was trying to be somebody that wasn't me," Austin says. "It just wasn't the way I was wired. I didn't want to be some super-authoritarian figure. I wanted to have a good, supportive relationship with all my students, and it literally took me a week, maybe two weeks, before I just thought: What am I trying to do? This isn't who I am."
It was a renouncement of conditioning. Another one followed in 2013 on his first of several tours guest-conducting at a Tokyo music school, a gig he got through a mentor's unrequested recommendation.
Most of the students, all college-age, did not speak English. Austin did not speak Japanese. He communicated through metronomes, math and Italian terminology — music's lingua franca — while, humbly, overcoming what it means to be a sensei.
"My name over there is 'Austin Sensei,'" Austin says. "And senseis never make mistakes. I could tell somebody the most absurd thing, and they would say, 'Hai,' and that's what we're going to do. One time in rehearsal, my principal clarinet player stopped and said, 'Austin Sensei, can we go back to letter B because we're not playing that well?' And I said, 'Yes, you're right, we are not playing that well, but that's my fault.' He just jumped over his chair and goes, 'Really?!'"
This burned down a taboo. Senseis operate with conferred infallibility, but Austin says he's not comfortable speaking ex cathedra.
"At any given moment in a score, there are hundreds of decisions you can make," Austin says. "The easy way out is to accept whatever comes at you as long as it's essentially right. The harder way is to be very, very, very specific about what you want while still allowing the students to have a certain amount of investment in the piece in terms of their own creativity and their interpretation.
"There is the expectation that no matter what you're doing, you're going to put out this great product, and it's always about the product, the concert and the performance and whatever — and that is important. But it's not more important than the experience that the students have from the beginning of the process to the end of the process and what they've learned in it. The fact that they can push buttons is of little consequence if they haven't changed somehow as a person."
A band composed of former students — Austin estimates he taught more than 3,000 at VCU — returned to play and to be conducted by Austin in his farewell concert, which filled the 500-seat Singleton Center and featured a "This is your life, Terry Austin" display in the lobby. At midweek, there was still a Terry Austin poster loitering outside in the glass case reserved for the venue's coming attractions. Austin is taking it home with him.
"I tried not to play music that didn't make people feel something," Austin continues, "and to the extent that I could get everyone thinking about the music in the same way, I felt successful, even if we couldn't, necessarily, play it fantastically. But if I got to the point where people understood what we were trying to get out, that was more important to me than perfect performances — actually reaching audiences, reaching students, having them have that momentum in rehearsal where it's just really the expression of the music that becomes emotional to them in some way. That's the very important thing."