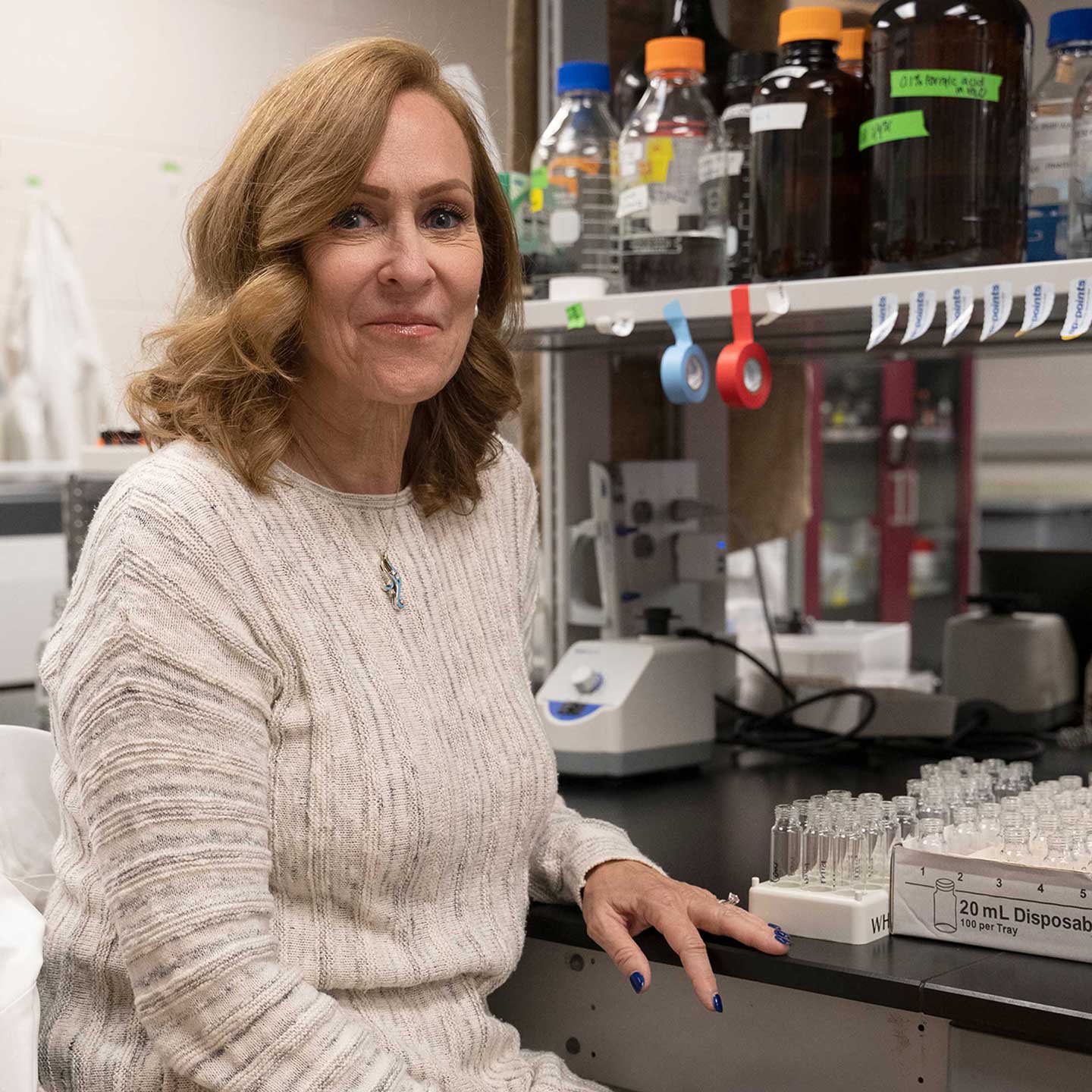 Teri Stockham: Godmother to the CSI generation
The forensic toxicologist is helping students find success in an ever-changing field
Teri Stockham, Ph.D. (Ph.D.'87), has spent three decades in the laboratory and the courtroom. The forensic toxicologist has worked in medical examiners' labs in Richmond, New York City, and Broward County, Florida, where she served as chief toxicologist just three years after earning her Ph.D. from the VCU School of Medicine. As a legal consultant, her testimony has been sought in court cases ranging from personal injury, workers' compensation and child custody to DUI, drug-facilitated sexual assault and murder.
Among her achievements, Stockham's relationship with her alma mater stands out. She frequently returns to campus as a guest lecturer. And as a scholarship donor and mentor, she helps aspiring forensic toxicologists prepare for careers in an ever-evolving field.
WELL BEFORE true-crime podcasts and investigative dramas launched the profession into the pop culture zeitgeist, Stockham had set her sights on a career in forensic toxicology. Her father was a chemist, and she carefully charted her path to become a chief toxicologist, earning a chemistry degree from Indiana State University and a master's in forensic science from the George Washington University before enrolling in VCU's pharmacology and toxicology program.
SHE WAS drawn to VCU's Ph.D. program because it "provides students with equally strong foundations in both disciplines, which is rather unique," Stockham says. "I often hear from attorneys who aren't sure if they need the expertise of a pharmacologist or a toxicologist, and because of my time on the MCV Campus, I get to tell them that I am both."
WHEN STOCKHAM arrived at VCU, the university did not have a forensic science program. She says a combination of pride and personal experience motivated her to establish the Dr. Teri Stockham Scholarship in Forensic Toxicology in 2017. "Today, VCU's Department of Forensic Science is a top-ranked, accredited forensic science degree program, and there's only a handful of those in the country," Stockham says. "I'm really proud of that. I worked hard through 10 years of school that I paid for myself through teaching assistantships, part-time jobs and with help from scholarships. I wanted to help students find the same fulfillment and success that I've found."
AT VCU, Stockham was in a cohort of just seven students. She bonded with her peers and faculty, and maintains that sense of community. "I make an effort to spend quality time with each recipient of my scholarship, and I connect with other forensic science students at VCU, too," she says. "I want students to know they are supported."
HER DESIRE to support students comes almost instinctively. Stockham recalls attending a luncheon to meet the most recent recipient of her scholarship. The student mentioned wanting to attend the Society of Forensic Toxicologists annual meeting, and Stockham offered on the spot to pay for the travel and attendance fees. "I think she and the dean [of the school] were both shocked, but I had a gut instinct, and I didn't question it for even a second," she says. Now, funding for travel grants is built into the scholarship so recipients can benefit from similar experiences.
HER GOALS in supporting students are simple: "I hope they graduate from VCU educated, practiced and ready to succeed in fulfilling, lifelong forensic science careers."