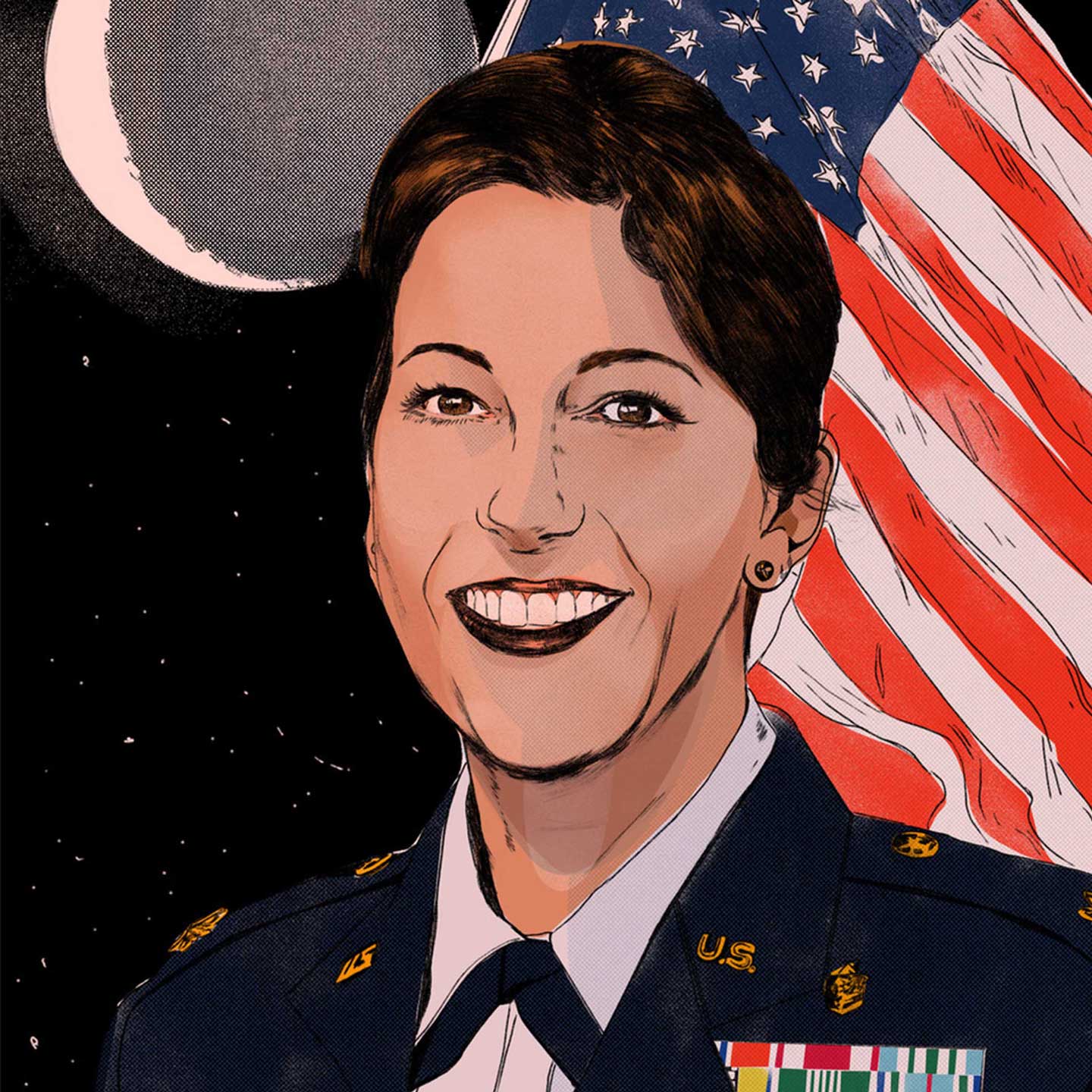 Elizabeth Hoettels is up in the air
The Air Force officer and nurse — on the way to her latest assignment — reflects on her extensive travel log and shares the story behind her call sign
"I board at 1600 so I've got three hours," texts Elizabeth Hoettels, D.N.P. (B.S.'05). It's June 9, and the U.S. Air Force lieutenant colonel is at the airport in Atlanta on her way to a new assignment as chief nurse executive at Aviano Air Force Base in northeast Italy.
"Is there a good time to call you? It's been a stressful week trying to clear base. You're on my checklist so I don't forget."
Hoettels is moving. Italy is the third country she'll live in since 2019. Her life is packed in her luggage. Her dog, a 7-year-old Golden Retriever named Rio, is in Amsterdam en route to Venice. "She got put on a plane last night," Hoettels explains. But Hoettels is unflappable and organized in a way you would expect a military officer with three nursing degrees to be, texting images of Rio and answering interview questions as she awaits her flight.
She enlisted in the Army in 1996 as an undergraduate student at Marquette University. She needed money for college and an ROTC scholarship helped her earn a degree in international affairs. "I wanted to be a foreign service officer," Hoettels says. Instead, she was commissioned as an administrative officer in the Army's Medical Service Corps.
Despite having "no medical training" when she was commissioned, Hoettels, who transferred into the Air Force in 2005, is now two decades into a career in health care. She delivered whooping cough vaccines to remote villages in Afghanistan, treated patients 37,000 feet in the sky as a transport trauma nurse and commanded a medical squadron in the United Kingdom for the first 15 months of the COVID-19 pandemic. Twenty-six years after she enlisted, Hoettels, promoted to colonel in August, shares stories about her military career, her path to becoming a nurse, a scholarship she created and the TV show that got her through the pandemic's first year.
HOETTELS HAD some "basic EMT qualifications" when she was commissioned, but "being part of the medical service, we all had a caduceus on our collars and so everybody who saw the caduceus called you 'Doc,'" she says. "And I'm like, 'Whoa, whoa-whoa-whoa, don't show me that rash.'"
HER FIRST Army deployments — to Bosnia and Herzegovina and then Afghanistan — were with civil affairs units, rebuilding clinics, hospitals and pharmaceutical plants. In Afghanistan, Hoettels advised Suhaila Siddiq, the country's minister of public health. "She was a trauma surgeon," Hoettels says of Siddiq. "She was the only female allowed in any sort of position of power."
AT THE end of that assignment in 2003, Hoettels still "had zero medical qualifications other than I could start an IV" and was replaced as Siddiq's adviser by a physician from Johns Hopkins University. "I felt like a bit of a farce," she says. "I came back [to the U.S.] and decided I wanted to go to nursing school."
BOTH OF Hoettels' parents served in the Army: her father, William, was a Medical Service Corps officer and her mother, Mary, was a medical specialist officer and dietician. Hoettels was born in Okinawa, Japan, in 1974, while her parents were stationed there.
SHE HAS lived in at least eight countries, speaks German and understands a handful of other languages, including Arabic, Norwegian and Spanish. In Bosnia, she took a six-week crash course of Serbo-Croatian. "We called it turbo-Serbo," she says.
THE MILITARY is her family, and the base is a tight-knit community. "I'm heading to Italy and I don't know the people picking me up, but they are going to drive to Venice to pick up me and my dog and like 140 pounds of luggage," she says. "They already have a fruit basket for me, water and food for my dog. If you moved from one side of Richmond to the other, I don't think your next-door neighbor would have stocked food in your refrigerator."
HOETTELS ADOPTED Rio from a breeder who works with a nonprofit organization called Warrior Canine Connection. "[Rio] is the name she came with and I thought that was cool," she says. "Duran Duran was the band my father would not let me see, so this is my small way of rebellion."
RIO LOVES to swim, paddleboard and hike. "She's my excuse to leave [work] at 5," Hoettels says. Another pastime: baking. "My call sign is 'Betty,' like 'Betty Crocker.' I bake cookies all the time," Hoettels says. She's baked chocolate chip cookies for the secretary of the Air Force and deputy secretary of defense and once made a batch of 450 for a conference in Belgium. "A little sugar will help the soul," she says.
IN 2012, Hoettels established the Per Aspera ad Astra: Emerging Nurse Leaders Scholarship at the VCU School of Nursing. "I'm a believer in the idea that having the ability to push yourself is important," Hoettels says. "And I'm a huge proponent of leadership. I have a master's in nursing administration and my doctorate is in executive leadership. If there's somebody out there who really has a dream to become a nurse, I want them to have that opportunity."
THE SCHOLARSHIP'S prelude is Latin and translates to "through hardships to the stars." Hoettels and her dad came up with it. "He's also a nurse and suggested the Latin part," she says. "We joke [that] he's like a walking encyclopedia."
HOETTELS HASN'T owned a TV since 2007. "It's a distraction," she says. "But I started watching 'Ru Paul's Drag Race' on Netflix during the pandemic and I thought it was hilarious. I was in the U.K. and we were locked down and I was the medical commander, working seven days a week, so I needed something. Sometimes you just need to escape."
HER ADVICE for aspiring nurses: Don't be afraid to try something new. "It's scary, it really is. Every job I get, I'm like, 'Oh my God. I'm going to fail miserably.' But remember you are not on an island. Is it hard to ask for help? Yes. I'm a chronic, compulsive independent, type-A overachiever who does not want to ask for help. But when you do, you realize the world is not on your shoulders. So: Ask for help. Try new things. Find that mentor. Florence Nightingale made it through the Crimean War. You can do this."