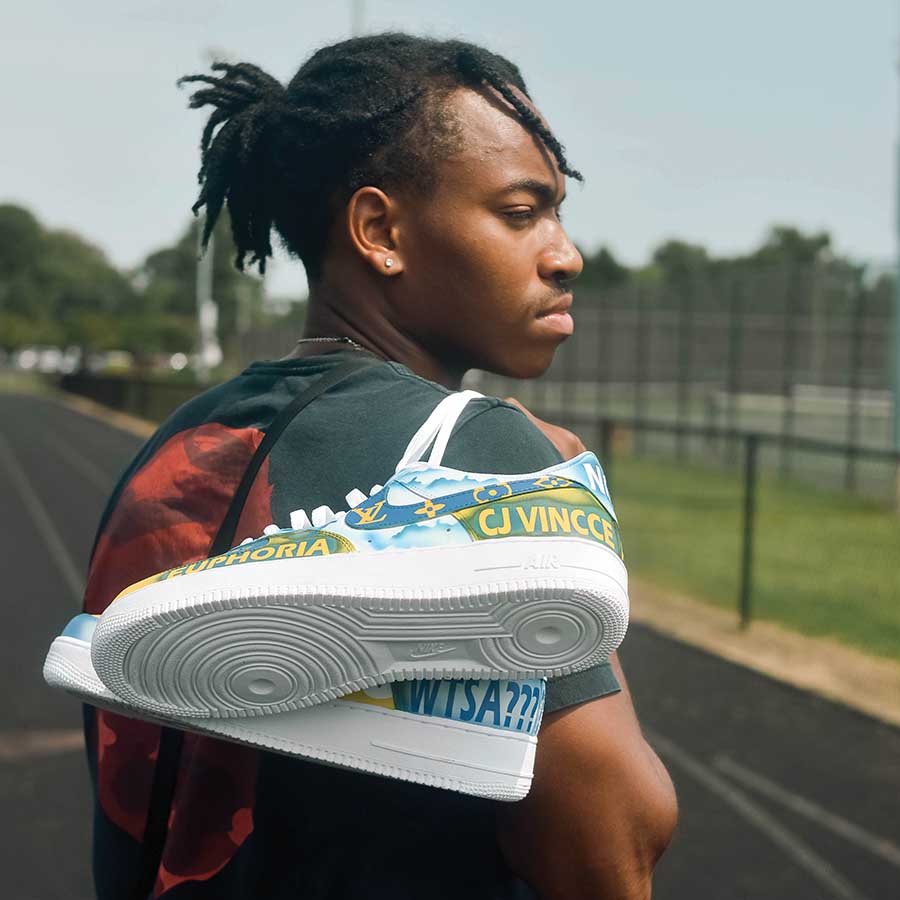 Art Is Afoot
Inspired by social media, Jaden Mitchell, a sprinter on the VCU track and field team, started making sneaker art. Now his painted kicks are worn by NBA and Olympic stars.
Jaden Mitchell's first attempt at painting on a sneaker did not go as planned.
"It was my sophomore year of high school," he says. "I painted for fun on canvas, but I would always see custom sneaker artists on YouTube and Instagram, and it was something I wanted to try. I looked up how to paint a flame on a pair of Vans. And it turned out horrific."
Mitchell figured that would happen. He kept practicing, painting random objects on shoes and trying to get a feel for the medium, first with brushes and then with an airbrush machine. Six years and about 200 pairs of shoes later, the VCU track and field sprinter is an emerging sneaker artist with a small business, JaysCustomKickz, and is designing custom footwear for NBA player and former VCU standout Na'Shon "Bones" Hyland and Olympic sprinter Michael Cherry.
Though Mitchell still paints on canvas, working on sneakers allows him to transform something that already exists. "It's very free," he says. "I get to change the whole sneaker up."
Speed and artistic talent run in the family. Mitchell's older brother, Johnathan, is a fellow sprinter on the VCU track team. He's also a canvas painter and photographer. His first camera wasn't even a camera; it was a Kindle Fire tablet. Once his mother gifted him his first point-and-shoot, a purple 30x zoom camera ("Without any settings," Johnathan says, laughing), he started taking pictures of everything: landscapes, deer, lakes, himself, Jaden, their friends. He, too, has grown his hobby into a business: jmphotography.
The brothers — Jaden a junior business major and Johnathan a senior studying political science — plan to continue this work. Johnathan lately has focused on fashion, modeling and portrait photography, and Jaden plans to be a professional artist, designing footwear for pro athletes. "I plan on keeping at it for a very long time," he says. Here, he and Johnathan share a glimpse of their creativity.